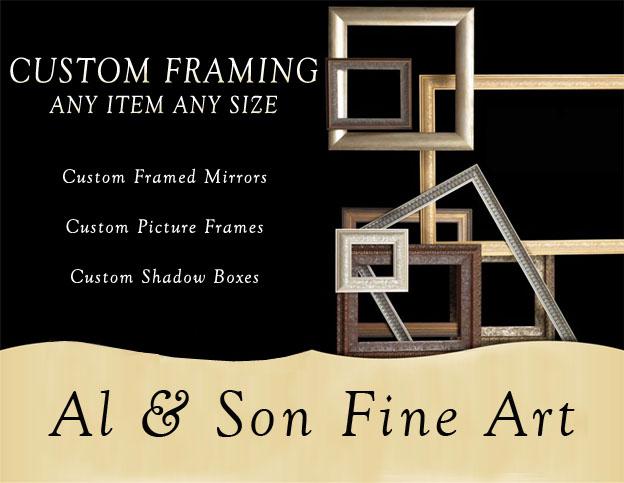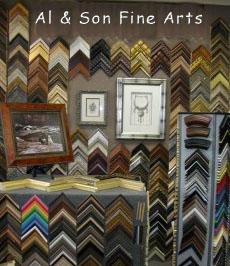 Custom Framing
Looking for a special way to commemorate your special moments?  Al & Son Fine Arts is happy to help you celebrate the major memories in your life.  From anniversaries to birthdays, we pride ourselves on creating the perfect frames to preserve your most precious memories.  Al & Son Fine Art make it a point to only design Custom Frames that complements the exact colors in your artwork whether it be a beautiful painting or a family photo portrait.  This gives the customer a piece of art that shall fit into any interior for life.
You could give your significant other the traditional anniversary gifts...flowers, candy, an expensive dinner...or you could give a gift that lasts as long as your marriage with custom anniversary picture frames.
Consider the possibilities for anniversary frames.  Some of the items you can have custom framed at Al & Son Fine Arts include:
A professional photograph from your wedding

Your marriage certificate or ketubah

A current photograph of the two of you

A collage of photos from every year of your marriage

A favorite painting from your honeymoon destination

One of your wedding invitations

Wedding cards from your loved ones

Letters from when you were dating
There are so many sentimental things you treasure from your many years of marriage. Preserve these memories forever by surprising your significant other with anniversary picture frames from Al & Son Fine Arts.
Please see us for your framing needs including:
Paintings

Drawings

Photographs

Prints (Lithographs, Etchings, Engravings, Silkscreens, Giclees)

Documents

Announcements & Invitations

Textiles (Needlework, Clothing, Quilts)

Mirrors

Shadowboxes of Any Kind of Object

Oversize and Unusually Shaped Pieces
Our Mission
To serve our clients to the best of our ability.

To educate our clients about their options in custom framing

To maintain or improve the condition of all art we handle to the best of our knowledge and ability.

To maintain a pleasant, educational, and creative environment that enables our staff and clientele to collectively decide on the most satisfying solution to all custom framing challenges that are presented to us.
Our Process
The Artwork
Your art and memorabilia will stay in our shop. Discount framers send your pieces to a warehouse which may cause accidental damage. At Al & Son Fine Arts, everything is under security surveillance and completely insured.
The Design
One of our creative, friendly custom framers uses color theory and design elements to guide you to various options of framing - possibly including one or some of:
Mats - Single, double, or triple matting. Hand painted bevels, French matting, painted panel/inlay, suede/linen/natural fibers.
Fillets - mini-frames within a frame or mat to bring out texture, color and dimension
Glazing - UV filter glass, clear, reflection control, museum glass
Mounting

dry mounting (for permanently mounting art of little value for flat Presentation)

museum/ archival mounting - reversible mounting techniques that maintain the integrity of the art

stretching over bars (canvases)

needle art stretching

sewing - fragile fabric art; objects

Liners - typically used for canvases that will be presented w/out mats & glass, although glass can be used b/t frame & liner
Moldings (frames) - 1, 2, 3 or more stacked to achieve the desired look or design. (taking into account desired width, depth and design)
Fit - The appropriate backing & hanging hardware to complete your work of art